OJISAN MARSHMALLOW
First Kiss
Wakabayashi's jealous little brother finally warms up to her crush. Hilarity ensues.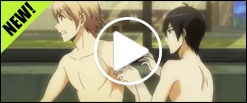 DIVINE GATE - Blue Xmas
Aoto?s stalker?s world gets flipped, turned upside down after a fateful meeting.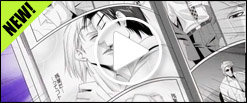 BARAKAMON - Funjoshi
A hormonal teenager dramatically wrestles with her love/hate relationship with BL.

ZETSUEN NO TEMPEST - Bath Time
After a local apocalyps, the boys happen upon an abandoned house, but apparently a bath is out of the question.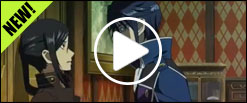 PROJECT K - Sanctuary
After being targeted, The blue king offers Kuroh protection, a place to stay-- and something else.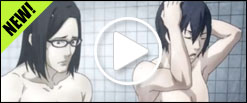 PRISON SCHOOL -
Shower Scene Scream
Shingo overhears & completely misinterprets a break out plan during shower time.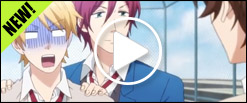 NIJIIRO - Pent Up
A frustrated Kei, the only one in the group without a girlfriend, tries out his new ?moves? on Hashiba.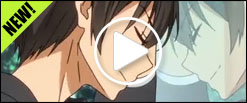 AMAGI BRIILIANT PARK - Narcissus
A handsome young man eye humps himself in public to the amusement of onlookers.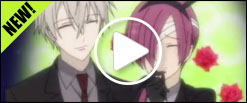 INU X BOKU SS - Old Friends
Sou and his libidinous buddy Natsume reconnect after years apart.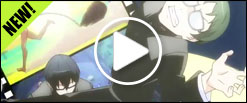 PRINCE OF STRIDE - Nice Gams
Muscle fetishist Fujiwara sizes up and feels up a fellow club member Ayumu.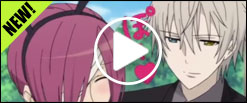 INU X BOKU SS - Touch It
An innocent ?guess what?s in the box game? takes an unexpected turn.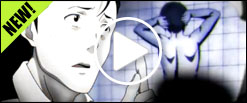 PRISON SCHOOL - Rumor Has it/b>
Shingo stuns the rest of the gang when he reveals Gakuto & Kiyoshi's physical relationship.

YAMADA KUN & 7 MAJOU -
Miyamura Kisu
Much to his dismay, Miyamura insists on trying out Yamada's new powers, first hand!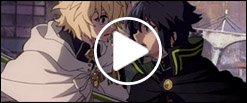 OWARI NO SERAPH - Reunion
Yuu and Mika finally see each other after 4+ years & in the process Yuu completely forgets his mission.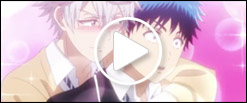 YAMADA KUN & 7 MAJOU - Alone Time
Yamada needs to undo an amnesia spell, but only manages to make things worse.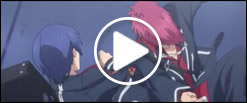 GUNSLINGER STRATOS - Love Triangle
In the guise of protecting his sister, Kyouma attacks/hounds Tohru. Onlookers see his behavior for what it really is.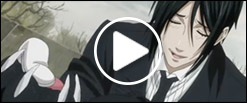 KUROSHITSUJI - Cat Person
Sebastian's love of cats sparks bitter jealousy in Pluu.


FOOD WARS - Bath Time
Souma hopes to unwind alone, but gets a pep talk instead. Nudity ensues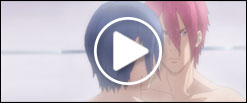 GUNSLINGER STRATOS - Shower
Kyouma awkwardly consoles a grieving Tohru the only way he knows how.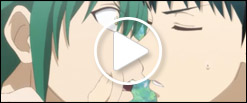 YAMADA KUN & 7 MAJOU -
Tsubaki Kisu
Yamada must use his powers to prevent a local disaster, "what happens next will astound you!"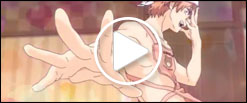 FOOD WARS - Welcome Party
Souma's nutty dorm-mates throw him a welcome party & get "drunk" on juice.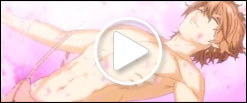 FOOD WARS - Spring Thaw
Souma's cooking has a profound effect on all who try it; with sexy results!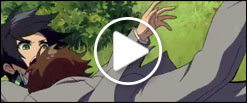 OWARI NO SERAPH - BFF's
Yuu makes a new friend, whether he wants to or not.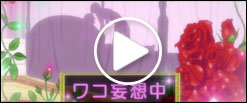 STAR DRIVER - MAGNETISM
Wako's curiosity is piqued during a drama club meeting. Wild hallucinations ensue.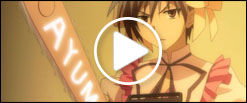 KORE WA ZOMBIE - TRANSFORM
Boy in danger obtains power to fight back. But at what cost?

CASTLEVANIA S&M
Alucard takes SImon's flame whip like a big boy!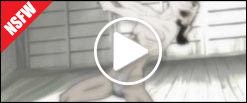 SHIGURUI - LOSS
NOT SAFE FOR WORK!! - Thoughts of a fallen comrade that are anything but innocent.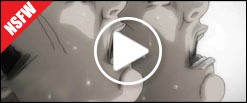 SHIGURUI - DOUBLES
SO NOT SAFE FOR WORK!! - Twins in every sense of the word. They do EVERYTHING together.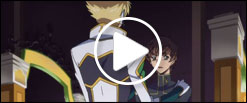 CODE GEASS R2 - AFFECTION
Zino thinks Suzaku's new outfit is fierce.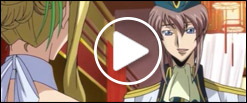 CODE GEASS R2 - INTRODUCTIONS
Earl Kanon and the crowned prince are a bit too close.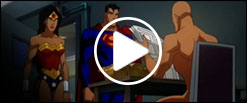 JUSTICE LEAGUE - STORY TO TELL
Luthor makes a rather BOLD to move to prove he can be trusted.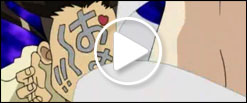 MAGIC USERS CLUB - TP DREAMS
Tatakura finds himself attracted to an androgynous but male classmate.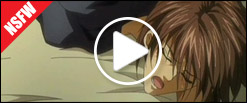 IKOKU IROKOI ROMANTAN - MERCHANDISE
Ranmaru is drugged, fondled and put up for sale to the highest bidder. NOT WORKSAFE!!

VP KNIGHT - HELPING HAND
Kaname helps Zero once again & claims it's for Yuuki.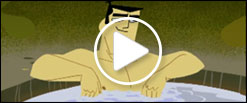 SAMURAI JACK - IN WONDERLAND
While a filthy Jack tries to get clean a white rabbit steals his clothes. For an entire episode.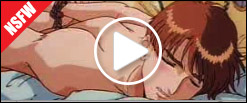 MY SEXUAL HARASSMENT - THE PRICE OF SUCCESS
Mochizuki Junya learns the hard way what it means to be a successful business man in Japan today. NOT WORKSAFE!!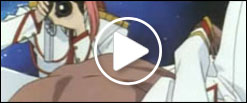 UTENA - AKIO'S PHOTO SHOOT
Akio just can't help oozing sex appeal while splayed over the roof of his hot rod.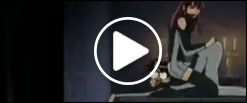 MAGIC USERS CLUB - AFTERSCHOOL FUN
Aburatsubo and Takeo have a naughty time at school, or do they?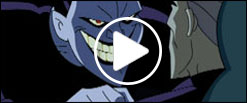 BATMAN BEYOND - HELLO BATMAN
After amazing scientific break-throughs and 65 years, the Joker is STILL stalking Batman.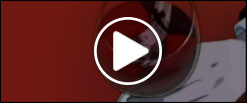 YAMI NO MATSUEI - WINE & DINE
Muraki taunts Tsuzuki sexually by doing naughty things to a wine glass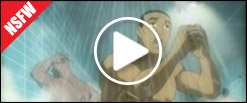 THE BOONDOCKS - DON'T DROP THE SOAP!
Tom has frequent nightmares about dropping the soap in a prison shower.NOT WORKSAFE!!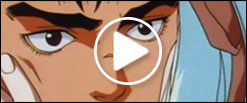 BERZERK - WANT YOU
Griffith pulls an Uncle Sam and says he wants Gatsu... for his army, but always leaves out the army part.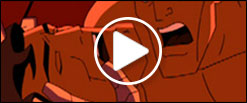 SUPERMAN/DOOMSDAY - CREEPY LEX
Lex Luthor takes out his frustrations on Superman in a way that would make anyone question his orientation.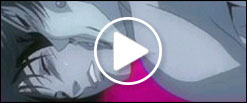 AIRMASTER- VIOLENT CONFESSION
Nagato loudly professes his love to a wigged out Maki.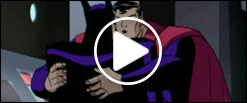 JUSTICE LEAGUE - THE SAVAGE TIME
After fixing the past, time goes back to normal and Superman is elated to find Batman is normal too.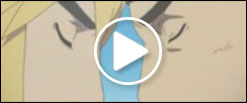 STREET FIGHTER - BROMANTIC GOODBYE
Ken & Ryu have a nice male bonding moment.

PEACEMAKER - KUROGANE
Suzu describes his master in flattering detail.


NIGHTWALKER - HINDSIGHT
Shido wishes he's never left his family for his smexy vampire lover, Cain.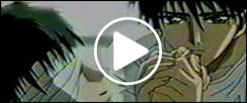 X-1999 TV - HERE FOR YOU
Kamui carefully tends to a wounded Subaru.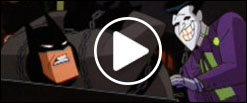 BATMAN TAS - MAD LOVE
Joker saves Batman from being killed by Harley Quinn, everything about this scene is just wrong.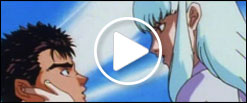 BERZERK - MINE
Griffith won Gatsu in a fight and gets incredibly possesive.

KIZUNA - DRUNKED KISS
A wasted Enjoji pesters a sleeping & annoyed Ranmaru for kisses.

AIRMASTER - KISS THE PAIN AWAY
After getting badly beaten in a fight Nagato asks for Kinjiro to take the pain away with his lips.


VP KNIGHT - BLOODY HICKEY
Kaname sticks his neck out for Zero and claims it's really for Yuuki.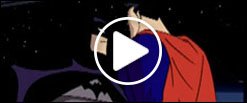 JUSTICE LEAGUE - TWILIGHT
Batman & Superman have a pissing match.

MAGIC USERS CLUB - CHEER UP
Takeo gets depressed when his magic club meetings end early. But Aburatsubo is always there to dry hump him till he's chipper again.


VENTURE BROS. - COOL HAND RUSTY
Rusty Venture teases a group of potential villains while washing his walking eye shirtless.

BERZERK - BATH TIME
Griffith & Gastu have an early morning splash fight.

HELLSING- TOGETHER FOREVER
Two boys from a boarding school use vampirism to be together forever.


MAGIC USERS CLUB - HUMAN BROOM
Aburatsubo is ecstatic about Takeo's briliant escape plan.

CLOSE THE LAST DOOR - KISU
A tipsy Saitou decides to act on some hidden feelings.

KUROSHITSUJI - TOO TIGHT
A deceptive clip with a funny twist.


WINTER CICADAS - LIGHT MY FIRE
Akizuki comes out of his depression and they share a passionate night together.

NIGHTWALKER - LOVE YA
Cain reveals his master plans and feelings to a stunned Shido.

MAGIC USERS CLUB - WET DREAMS
Aburatsubo has a wet dream while Takeo desperately tries to stay awake.


NIGHTWALKER - MEMORIES
Shido reflects on his relationship with Cain.

GETBACKERS - NEEDLE & THREAD
Kazuki and Jubei come first in each other's hearts.

YAMI NO MATSUEI - PAYMENT
A possessed Tsuzuki asks for payment in flesh for his help.


DEVIL MAY CRY - PRISON BITCH
The prison warden hits on Dante but doesn't realize he hits back.

ARAISO HS - TOO HOT
Kubo taunts his panting, sweaty friend with what he wants.